Everton 3-3 Liverpool Stats and Highlights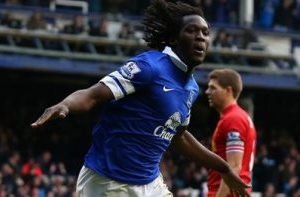 A late Daniel Sturridge goal earned Liverpool a dramatic draw in a pulsating game against rivals Everton.
A far post Philippe Coutinho strike quickly put the Reds ahead but Kevin Mirallas poked in an equaliser.
A Luis Suarez free-kick restored Liverpool's lead before team-mate Joe Allen's glaring miss from eight yards.
The miss was punished when Lukaku slotted in from 12 yards and then powerfully headed in a corner, only for Sturridge to head in late on.
0-1 Coutinho 5′
1-1 Mirallas 8′
1-2 Suarez 19′
2-2 Lukaku 72′
3-2 Lukaku 82′
3-3 Sturridge 89′