Chelsea 2-1 Liverpool Highlights – FA Cup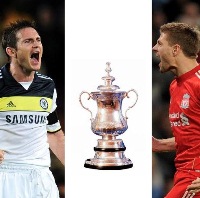 Chelsea secured the FA Cup for the seventh time after goals by Ramires and Didier Drogba overcame Liverpool.
Watch FA Cup 2012 final match, Chelsea Vs Liverpool highlights here.
Venue: Wembley Stadium
Date: Saturday, 5 May, 2012
Kick-off: 1715 BST
Click here for official highlights
All Goals

---
1-0 Ramires 11′

2-0 Drogba D. 52′
2-1 Carroll 64′

Head-to-head
• Liverpool have won 73, drawn 33 and lost 56 of 162 previous league and cup matches against Chelsea over 105 years.
• The Merseyside club are looking for a fifth successive victory over Chelsea, and a third this season, having won 2-1 at Stamford Bridge in the Premier League, and 2-0 at the same venue in the fifth round of the Carling Cup.
• The pair are meeting for the first time in an FA Cup final, and for the 10th time in the competition. All nine previous games produced conclusive results; Chelsea winning five, Liverpool four. The most recent was Liverpool's 2-1 triumph in the semi-final in April 2006, after which they beat West Ham and lifted the trophy.
Chelsea
• The 131st FA Cup final, is also Chelsea's 11th.
• The Blues are hoping to lift the trophy for the fourth time in six years, and the seventh in their history.
• Victory will keep alive Chelsea's hopes of becoming only the second club to complete the FA Cup and Champions League double, in succession to Manchester United's treble winning feat of 1999.
• Caretaker manager Roberto di Matteo has two FA Cup winners' medals with Chelsea; 1997 and 2000. Under Di Matteo, Chelsea have won 11, drawn four and lost two in all competitions. The midweek loss to Newcastle was their first in 12.
• Frank Lampard is Chelsea's top scorer with 16 goals, but Juan Mata tops their FA Cup chart, with four.
Liverpool
• Liverpool are competing in their 14th FA Cup final. Victory would see them winning the competition for the eighth time, making them the joint third most-winning club behind Manchester United (11) and Arsenal (10).
• Having beaten Cardiff on penalties in the Carling Cup final in February, Liverpool are now hoping to lift the FA Cup for the first time at the new Wembley.
• The Reds, who've failed to win six of the last eight Premier League games, have won all 11 domestic cup ties this season (two drawn), and are eager to become the first club to do the FA Cup/League Cup double twice. Only three clubs have won both domestic cups in the same season; Arsenal in 1993, Liverpool in 2001 and Chelsea in 2007.
• Kenny Dalglish is hoping to win his third FA Cup as Liverpool manager. He guided the Reds to victory in 1986 and 1989.
• The Anfield club have only scored two first-half goals in their 13 previous finals; John Aldridge after four minutes v Everton in 1989, and Djibril Cisse after 32 minutes v West Ham in 2006.
• Luis Suarez is Liverpool's top scorer with 17 goals, three of which were in the FA Cup. Andy Carroll has also scored three FA Cup goals.